Last Updated on 2022-06-23 by AlexHales
Fashion plays a major role in a person's life. It makes him look smart and appealing. It-brings in new confidence and energy. It gives a convincing look to your personality. So when you wear trendy clothes and accessories, you look modern and stylish. You look uniquely different and thus become the fashionista of your group. One such attire is on trend this summer. This is the patchwork attire. Colourful patchwork dresses, patchwork skirts, patchwork dungarees, patchwork tops are the talk of the town.
You must have seen people mending the torn part of their clothes with patches of different colourful fabrics. Well that is what patchwork is all about. Earlier it was used to mend old clothes so that it becomes wearable. But today patchwork has become a trend and different attires are coming to market in different colourful patterns. Jordash clothing is an online store where you will find trendy clothes like patchwork dungarees, patchwork skirts, tie-dye skirts and so on.
Patchwork involves needlework. In this they sew different pieces of fabrics to give a new design to the cloth. The design is large and is made by repeating the same patterns with different shapes and colours of fabrics. You will find many patchwork attires in geometrical patterns.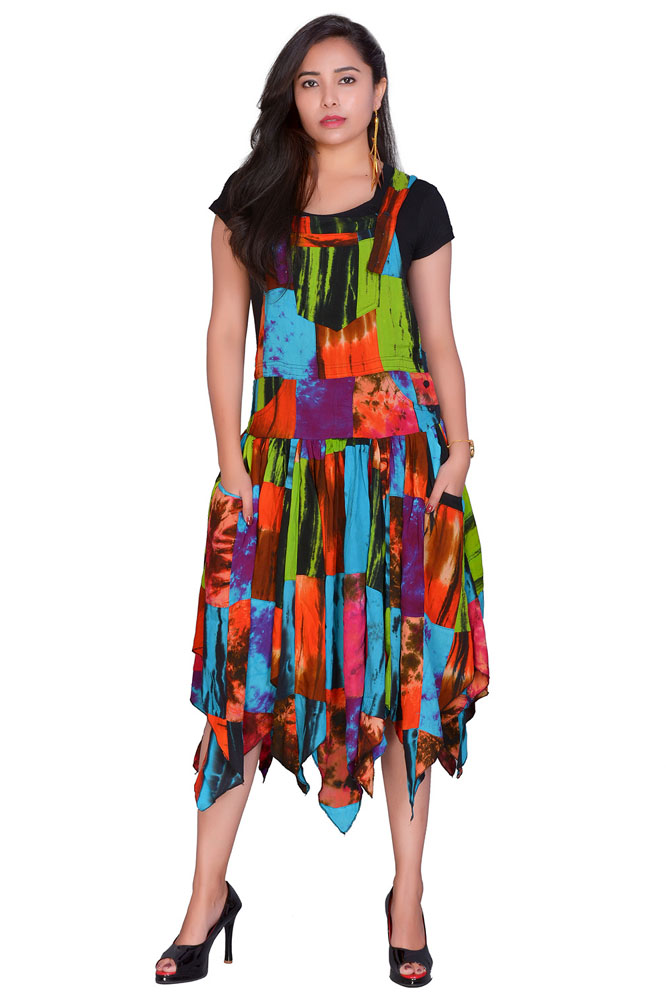 The History of Patchwork Attires
In general patchwork is used to make quilts. But with time people started using this design on the clothes they wear. The earliest trace of patchwork dates back to 3400 BCE in ancient Egypt, where people used this design on their clothes, furniture, draperies and decorations for walls. Also you must have heard about the Chinese patchwork. It is said that it began with king Liu Yu of Liu Song Dynasty. In the middle ages, patchwork was used to make quilts to keep people warm and safe during harsh winters.
During the Great Depression in the United States, patchwork saw its great revival. During this time people started making quilts by using and recycling the clothes they used to wear. After World War II, the craze for patchwork started declining only to revive later. Today patchwork is seen in the clothes we wear.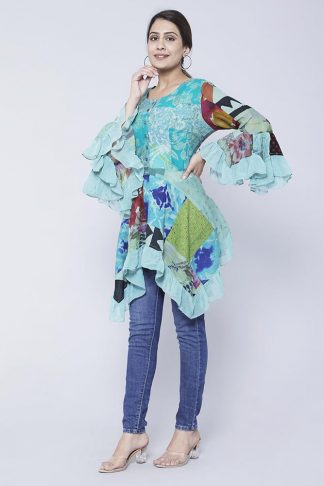 Although it was during the Great Depression that patwork saw its revival in the United States, before that it had become widespread during the colonisation of America when people from Britain, France, The Netherlands and Germany started living there. In this period, the housewives would mend the shabby clothes with different pieces of fabrics. Today you will find different colourful patchwork outfits like patchwork dungarees, patchwork dresses and patchwork skirts.

1970 was literally the year of patchwork. Patchwork made its appearance with the brand Missoni in 1970. The designs basically included printed patches on the fabric of the clothes. After 1970, we could see patchwork made a comeback again in the 1990's. The era would see the combination of patchwork and retro designs on the clothes.
In the 21st century, patchwork design is one of the most famous designs in the fashion world. It gives a stylish and modern look to your getup. It is a trendy and contemporary attire that you can wear for various occasions.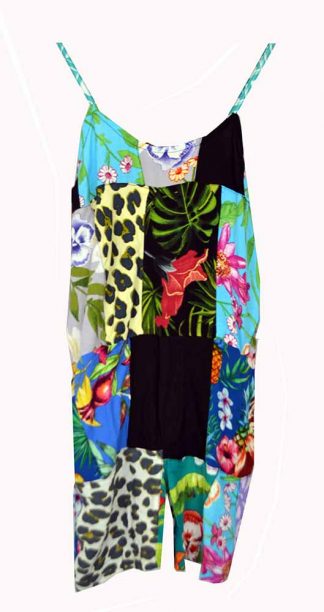 The Use of Patchwork Design
We all know that patchwork is us-ed for making quilts. But apart from quilts, the design can be seen on cushion covers, wall hangings, bags and rugs. Apart from that the design is seen on the clothes we wear. Coats, waistcoats, patchwork skirts, patchwork dungarees, patchwork dresses are some of outfits that come in the patchwork designs. The designs are of different patterns and structures. In quilts the designs are larger in size. Today, we can find different outfits in different colours of patchwork designs.
The Structures of Patchwork
Strip Piecing: It involves the process of joining different pieces of fabrics together. It saves a lot of time. In this they join different strips of fabric before cutting them apart. After that they form different patterns by joining different sequences.
String Piecing: This is another structure of patchwork. In this different strips of fabric are join-ed together. But the strips are unevenly wide. These unevenly wide strips of fabric are joined to make a patchwork design on the clothes.
Blocks: This patchwork design includes square patterns. They are of different colours. You will find different shapes and designs of patterns within the block or the square. Either the patterns are the same or they are different.
Summing Up
Patchwork designs are the colourful fashion trends of Summer 2022. They are chic and classy. They-come in different colours and patterns. They give you a stylish and contemporary look. So this Summer season enhance your look with patchwork attires like patchwork dungarees and patchwork dresses.